Residential Expert Locksmith Tampa, FL - Master Lock Key Store
It can never be fun to get stranded outside your home with a jammed lock and key that does not work! For this and similar situations you require the phone number of Master Lock Key Store on the speed dial. We are your instant available help at hand for all situations that require mobile locksmith services in Tampa, FL area!
Our services are tailored to the needs of the residential clients. You may have locked yourself accidentally outside your home, grappling with a broken or lost key, or require lock replacement, installation and repair services. We are your single solution provider for all these issues and more.
Door locks are no doubt the most crucial elements of home security. If these fail to operate as desired, you will find yourself in a tight spot. Not anymore, we are here to take away the worry from such situations.
Our Services
Residential lockouts
Being locked out of your own home is highly irritating and embarrassing. Sadly, this happens more commonly than you think. Do not let this get to you anymore than required just call us! We are your 24 hour locksmith available to handle client emergencies on site. We will get the door open and help you in, irrespective of the lock brand, mechanism and model.
Rekey solutions
Instant and easy rekeying solutions are here now, and we offer these services on-site to our clients. You no longer need to worry about a lost key imposing a threat to your security and make your home secure and safe from intrusion. Our locksmiths will rekey your locks in a jiffy. Such is the expertise of our professional team.
Installation of locks
Lock installation is our specialty where we will use the latest contraptions to make your entry doors foolproof. We can install new ones or upgrade your existing ones based on the needs.
Lock repair and replacements
Our team of expert mobile locksmiths is always available to provide repair solutions based on the model and brand of your lock. It will start working again like new, doing away with the need for a lock replacement anytime soon. If the lock is beyond repair, our experts will immediately replace or upgrade the locks. Protect your quality investment with timely repairs. Call us!
Master key solutions
Do you think that it is the time to upgrade the locking system of your home? Call our experts for master key services. Although more common for commercial spaces, many homeowners consider this for their residence as well and get a master key made for all the locks of their residence.
Emergency services
We are your 24/7 emergency locksmith for Tampa, FL area. Our services are geared to restore your peace of mind immediately, once the untoward happens.
Door repair
In spite of our best efforts, sometimes it becomes difficult to stop the inevitable. When that happens, you have to pick up the broken pieces and make sure that it does not happen again. When you call us for repair solutions post break-in, our experts will offer immediate help. After all, you cannot keep your entry door damaged for any length of time.
An overview of our services: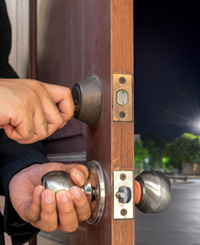 Home lockout assistance
Lock repairs and change
Eviction services
Broken key extraction
Garage door lock installation
Entry door installation and repair
Installation of new and improved locks
Key cutting, key cloning etc
Master key systems for home
Unlock service for doors, cabinets, safes and more
Advanced digital locks
Deadbolt installation
Peephole installation
Do you require home security upgrades and locksmith help, desperately? Call our experts on 813-778-0316 NOW!